I came across this while reading my friend Ashley's blog,
According to Ashley
. You may remember Ashley from the featured I did on her son
Henry's adorable baby pictures
. (Also, I thought I would let you know that Ashley is currently hosting a necklace and nail polish giveaway so head over to
her blog
for a chance to win.)
As part of the Valentine's Exchange, you were assigned a partner and a $10 limit. I was partnered with Leisha from
We Are The Shepperds
. Leisha lives in Texas and has a wonderful
Etsy shop
filled with personalized plaques and vinyl transfers.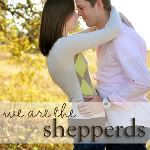 When Leisha's packaged arrived, I was so tickled to find a beautiful handmade card inside. As you know, I am such a sucker for pretty stationary!
The presents were wrapped beautifully.
To my surprise, one gift was a box of
Girl Scout Thin Mint cookies
. Who knew they were already available? I was ecstatic! I actually interned at Girl Scout Council in college and loved the continuous access to the cookies. In addition, Leisha included a pair of pink and red socks and a red velvet cupcake candle, both perfect for Valentine's Day.
A very special thanks to Leisha from
We Are The Shepperds
. Your Valentine's Day gift was perfect!