In January, I signed up to participate in
Monograms and Manicures's Fourth Annual Pink Swap
. By signing up, you are assigned a partner and the task of selecting four pink items under
$
30 to exchange. My partner turned out to be Sara from
Social Sara
.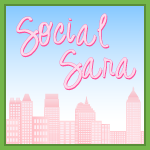 Sara actually reached out me after seeing my comment on the
Monograms and Manicures
participation post. This took place even before swap partners were assigned. After we exchanged a couple messages, swap partners were announced and ironically Sara and I were partnered together... I think it is fate. Sara has been so sweet and helpful in my quest to purchase a Mac.
Turns out, we have a ton in common:
She works in PR. I work in PR.
She used to ride and show horses. I grew up with horses.
She owns a Mac. I am dying for a Mac.
She is from Savannah, GA. I visited there this summer and decided I would love to live there.
She loves stationary. I am obsessed with pretty papers of all types.
To say the least, this swap experience has been wonderful! I am so thankful Sara and I were able to connect.
Fast forward a couple weeks later. I picked out four items and wrapped them in pink paper to send to Sara.
A package including several beautifully wrapped gifts from Sara arrived shortly after.
The packaged included a personalized wine glass, printable stationary (how cool!), lotion, nail polish, hand sanitizer, tissues, a nail filer and a sweet note from Sara.
Great pink products to stash in my purse and vanity!
A gorgeous wine glass from Swoozies.
Stationary made to put put through your printer for personalization.... LOVE!
The Pink Swap
was a success and I look forward to participating in more exchanges like this.