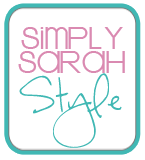 I have space available for additional sponsors. Is anyone interested in a button swap? I would love to exchnage spaces with lifestyle, design or style bloggers.
Don't have a blog, but still interested in ad space? Space starts at just $5 per month. Ad size can be negotiated.
Insterested? Email sarah@simplysarahstyle.com.