Hello, fashioninistas and craft-inistas!
I am excited to participate in
This Crazy Blessed Life's Week of Giving
.
Sarah, the author of
This Crazy Blessed Life,
and I go way back... and by WAY, I mean WAY back... to preschool and dance classes. I wish I had a picture of our dance recital handy to upload and share. We were so cute in our tutus.
For
the Week of Giving,
Sarah is giving readers an opportunity to
win numerous prizes
from crafters, Etsy shops and blogs. I am participating by offering
one month free of advertising on Simply Sarah Style
. Click here to
enter
.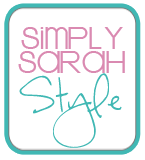 (Interested in other advertising opportunities, email me at SimplySarahStyleBlog@yahoo.com.)
A special thanks to Sarah
for allowing me to be involved in this wonderful week of giving. Best of luck to all participants!