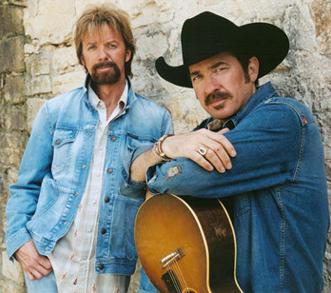 Tomorrow is my birthday and to celebrate my friends and I are going to see
Brooks & Dunn
for their Last Rodeo Tour. It's bitter sweet! I remember my first Brooks & Dunn concert being one of the best concerts I have ever attended. It was their Neon Circus tour featuring seven acts including Rascal Flats, Brad Paisely and other up and coming singers.
A college friend and I actually stumbled across tickets when we went to downtown Lexington to try to win tickets from the radio station the day of the show. Unfortunately, we were not the lucky winner of front row tickets and backstage passes, but we did end up with FREE tickets for the nose-bleed section! We approached the winner of the front row tickets and asked her what she was going to do with the tickets she already bought... AND she gave them to us free of charge!
I remember loving every minute of this show and thinking Brooks & Dunn were fabulous energetic performers!
Today I will see them perform in concert one last time! Kix and Ronnie, let's
"Play Something Country."